National Electronics and Computer Technology Center (NECTEC) is currently seeking for Thai and International postdoctoral researchers to join in various research projects.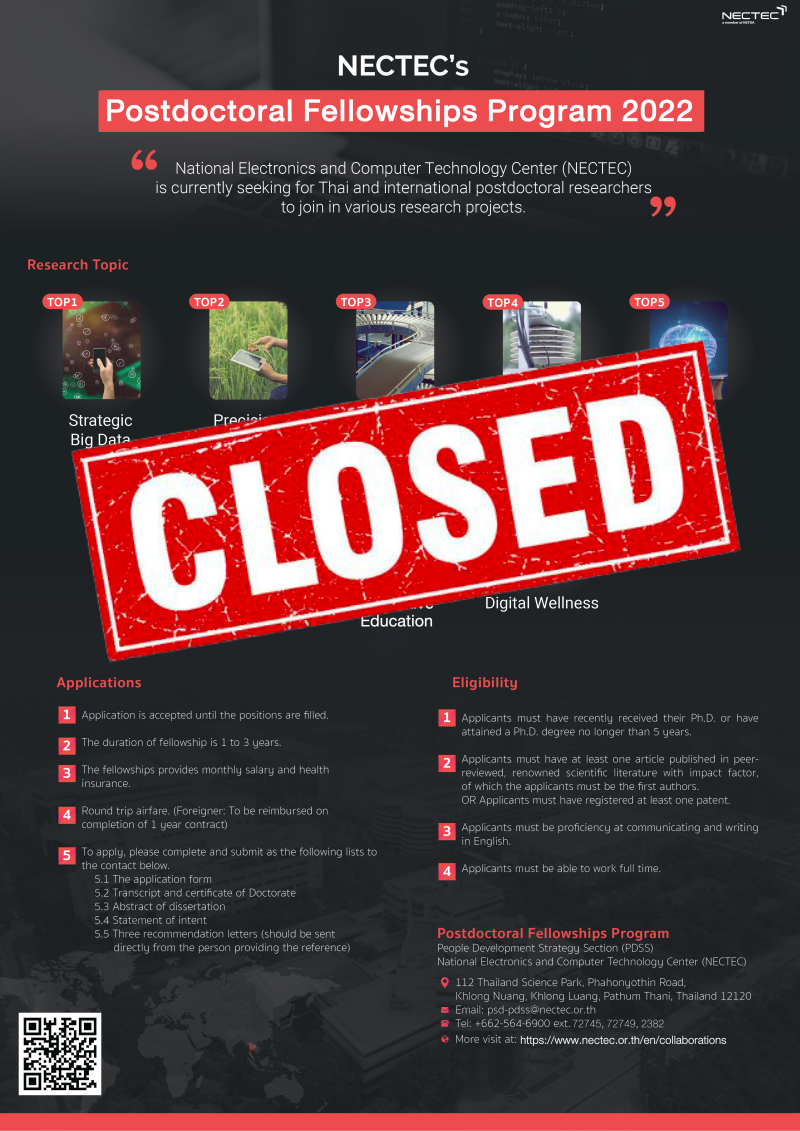 Objectives
To support and encourage Ph.D. graduates in Engineering (e.g. Electronics, Electrical, Computer), Science (e.g. Physics, Chemistry, Computer, IT), and other related fields in order to strengthen their R&D experiences, under the supervision of senior fellow researchers.
To increase the number of professional researchers who will be driving forces to create and deliver innovations which are beneficial to the country.
To conduct R&D and deliver the research outputs/outcomes that align with NSTDA's and NECTEC's goals, keep up with the global trends, and respond to the country's needs.
Eligibility
Generally, these following requirements apply:
Applicants must have recently received their Ph.D. or have attained a Ph.D. degree no longer than 5 years.
Applicants must have at least one article published in peer-reviewed, renowned scientific literature with impact factor, of which the applicants must be the first authors. OR Applicants must have registered at least one patent.
Applicants must be proficiency at communicating and writing in English.
Applicants must be able to work full time.
Applications
Application is accepted until the position are filled.
The fellowships provides monthly salary and health insurance.
Round trip airfare. (Foreigner: To be reimbursed on completion of 1 year contract)
The duration of fellowship is 1 to 3 years.
To apply, please complete and submit
The application form
Transcript and certificate of Doctorate
The first page of passport
Abstract of dissertation
Statement of intent
Three recommendation letters (should be sent directly from the person providing the reference) to the contact below
Performance Measurement and Evaluation
Performance Assessment
Postdoc Researcher must present their research result in a public seminar/forum at least 1 time/year.
At least 1 International journal with impact factor.
Contact information
People Development strategy Section (PDSS)
National Electronics and Computer Technology Centre (NECTEC)
112 Thailand Science Park, Phahonyothin Road,
Klong Nueng, Klong Luang, Pathumthani 12120, Thailand
email: psd-pdss@nectec.or.th
Tel: +662-564-6900 ext. 72752
Fax: +662-564-6901